MFOS Oct-Attenuator
Article by Ray Wilson
This is an ultra-simple project but one you' use all of the time with your modular. You can use this to provide attenuation for modules that don't have output or input attenuators.
Introduction

Often MFOS modules don't have CV input attenuators and many MFOS modules don't have attenuators on the outputs. This is because I use this scheme of making one module with 8 attenuators built into it. I simply plug what I want to attenuate into the input and then use the attenuated output to control whatever I want. I would advise that you add one or two of these for every two cabinets of synth modules you build depending on your attenuation needs.
MFOS Oct-Attenuator Schematic
View as PDF
Here it is. As I mentioned at the outset this module is pretty much a no-brainer for simplicity. Each input is connected across a level potentiometer and each output is simply connected to its level pot's wiper. This scheme allows you to pick off as much or as little of the input signal as you want to send to the module being modulated by simply adjusting the pot.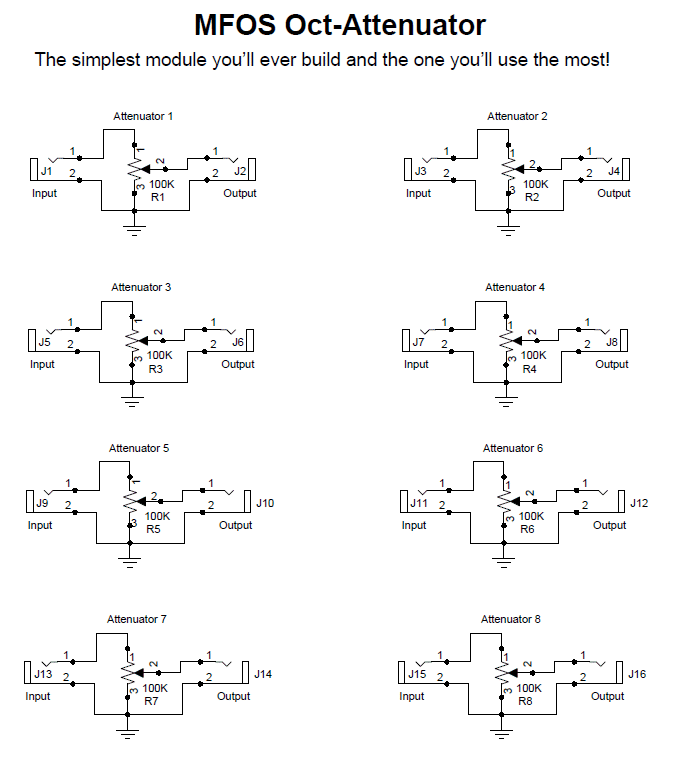 MFOS Oct-Attenuator Panel Wiring
View as PDF
The wiring is very simple as you can see. I suggest that you at least connect the panel to your synth's power supply ground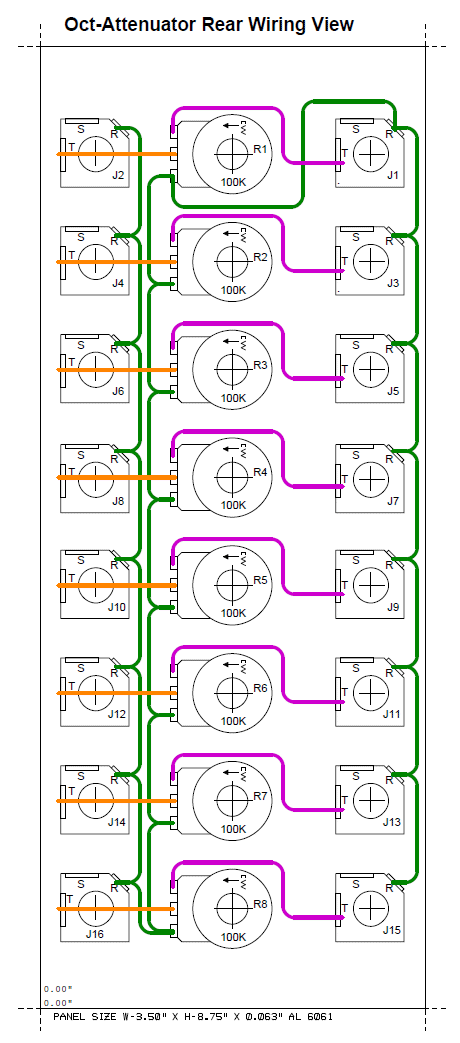 MFOS Oct-Attenuator Panel Layout
View as PDF
This panel is 3.5" wide and 8.75" tall.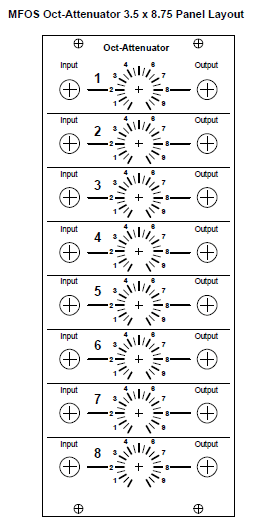 Oct-Attenuator Project Parts List
| Qty. | Description | Value | Designators |
| --- | --- | --- | --- |
| 8 | Linear Taper Potentiometer | 100K | R1, R2, R3, R4, R5, R6, R7, R8 |
| 16 | Jack 1/4" 2 Terminal | . | J1, J2, J3, J4, J5, J6, J7, J8, J9, J10, J11, J12, J13, J14, J15, J16 |